Lithuanian University of Health Sciences
Lithuanian University of Health Sciences (LUHS)
Faculty of Veterinary Medicine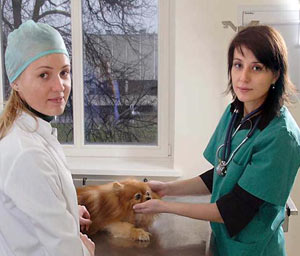 The spectrum of Veterinary Medicine is still expanding. Veterinary Medicine is concerned with the diagnosis, treatment and prevention of diseases of different local animal species, cattle, birds and aquatic animals. Veterinarians must therefore cover a broad range of tasks: the treatment of animals, laboratory activity, scientific and organisational activities, research, and animal nutrition, hygiene, and care.
The study programme at the Academy of Veterinary Medicine, with a first-class education programme, takes you to the degree "Veterinarian".
The students are awarded:
A general education in human, social and nature science
A first-class education in bioscience related to the animal world, e.g. Anatomy, Histology, Physiology, Biochemistry, Microbiology, Immunobiology, etc.
A specialised education in Veterinary Medicine, which includes: veterinary pathology, clinical diagnosis, non-communicable diseases, veterinary parasitology, veterinary pharmacology, obstetrics, gynaecology, epidemiology, communicable diseases, etc.
The study programme for veterinary training lasts 6 years.
Total number of ECTS credits: 360
Trained veterinarians receive a first-class qualification for activities that include prevention, diagnosis and treatment of diseases. The training programme is focused on indigenous animal species, cattle, the examination of animal health conditions, animal breeding and care, nutrition and hygiene. Fundamentally, the degree prepares the students for the profession of veterinarian. In addition, the students can obtain their PhD or specialise in a field of their choice. The degree in Veterinary Medicine covers not only the activity of veterinarian, but also those of zoologist, researcher, animal carer and much more. It is also possible to collaborate with veterinary control institutions, veterinary pharmaceutical facilities, manufacturers of animal food, animal care facilities and animal hygiene facilities.
The study programme in Veterinary Medicine fulfils the EU regulations for education as a veterinarian. The contents were developed, verified and established in collaboration with the EAEVE in 2002. Additionally, the studies are certified by Quality Assessment in Higher Education and accredited by the Ministry of Education of the Lithuanian Republic.