Lithuanian University of Health Sciences
Lithuanian University of Health Sciences (LUHS)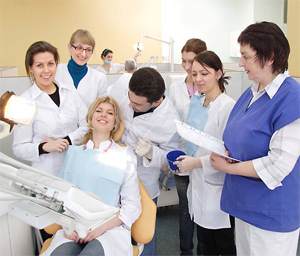 The Faculty of Odontology at the Lithuanian University of Health Sciences was founded in 1922. The Faculty comprises 5 specialised departments:
Clinical Department for Orthodontics and Dentofacial Orthopedics
Clinical Department for Oral Surgery
Clinical Department for Oral Pathology
Clinical Department for Paediatric Odontology
Clinical Department for Orthodontics
Degree in Odontology
There are approx. 700 students at the Faculty, including many international students. The language of instruction for international students is English. The degree in Odontology lasts at least 5 years. After successfully finishing the degree, the students receive the professional denomination "Odontologist".
Total number of ECTS credits: 300
Postgraduate Degrees
For postgraduate degrees, the following possibilities are offered: Endodontology, Oral Surgery, Orthodontics, Dental Prosthetics, Periodontology, Paediatric Odontology. The Faculty has gained international renown thanks to its professional postgraduate degrees and their great success, in the field of scientific research as well as in the outstanding practical clinical activity. The Faculty of Odontology at the Medical Faculty of Lithuania offers excellent possibilities for prospective students. Through a qualitatively first-class education, the students are directed straight to the professional qualification with the denomination: "Odontologist". Odontology is a branch of medical science that is dynamically evolving, it demands a high sense of responsibility, and also offers excelleent professional development opportunities.