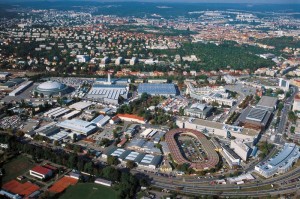 The city of Brno, the second biggest city of the Czech Republic, with 370,000 inhabitants, is situated in Central Europe. Within a radius of 120 – 200 km of Brno, you can find important European cities: Prague, Vienna and Bratislava. From the international airport of Brno there are regular flights to several cities.
Brno is the centre of Moravia and a starting point if one wants to experience the nature and cultural beauties of South Moravia. North of Brno there is the natural reserve of Moravian Karst, and to the South there are vineyards boasting stylish wine cellars. The city is surrounded by beautiful mixed forests which offer many tourist and bike routes.
In Brno there are many important monuments that bear witness to its rich history. Once a trading settlement which originated 800 years ago where the rivers Svratka and Svitava meet, it resisted the siege of the Hussites and the Swedes, experienced Napoleon's attack on Austerlitz and the horrifying consequences of the Austrian defeat at the Battle of the Three Emperors, only to become a centre for industry under the Habsburg Monarchy, the "Austrian Manchester". In the 20th century, its appearance was renovated thanks to the buildings in the functionalistic style. The most important monument of the modern architecture is the Villa Tugendhat -a UNESCO monument.
Today, Brno is home to the universities headquarters and the most relevant justice bodies. There are many different cultural activities in theatres, museums, galleries, cinemas, and clubs. The exhibition centre is of special importance to Brno, which has an 80-year long tradition and where many trade fairs, exhibition centres and congresses take place. Every year, cultural events and festivals are celebrated in the city (for example, Brno, City in the centre of Europe with the firework competition Ignis Brunensis), as well as important sports events (Grand Prix of Motorcycles). In Brno there are modern shopping and entertainment centres.
BRNO from EMproduction on Vimeo.