Faculty of Medicine in Pleven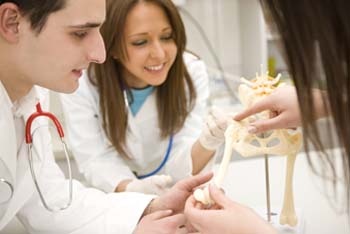 The Pleven Medical University, one of the five medical universities in Bulgaria, was founded in 1974 in order to expand the horizons, the size and the reputation of the city hospital, founded in 1865. Nowadays it comprises a preclinical department, a hospital institute with more than 1000 beds, and clinics for every big medical field, as well as diverse specialised clinics and research facilities with modern diagnosis and therapy equipment. It combines passed-on tradition and modern possibilities, teaching and therapy facilities. These are efficiently put to use for patient treatment, student training, doctor training, postgraduate student training and research.
The University has every necessary department for medical higher education, including theoretical, preclinical and clinical departments. Up to now, more than 6,000 Bulgarian and international students have graduated at this University. Current student figures amount to 2,044. From those, 275 are international students, including 78 students of Italian origin – the biggest group of international students at this University. Other international students come from Macedonia, Serbia, Ukraine, Moldavia, Greece, Turkey, Nigeria, Albania, Cyprus, Congo, Syria, Algeria, USA, Japan, United Kingdom and France. 835 young doctors from Bulgaria and other countries attend postgraduate lectures at the different specialised clinics of the University Clinic. There are currently 53 students taking their PhD. The teaching staff are highly qualified and possess extensive scientific experience. The lectures are held in 24 departments, by more than 60 professors and around 300 assistant professors. Most of the teaching staff are members of national and international scientific or medical societies and authors of research projects.
The academic year begins traditionally in mid-September and ends by the end of March of the following year. It includes 2 semester of 16 weeks each, including a one-week holiday in Christmas and Easter. The Academic Council of the University has decided to establish a different academic year for international students, due to the long time required to process their documents –particularly the Visa. The academic year for students who wish to study in English will commence mid-February and finish in the end of December. In the academic year 2006/2007, the university began to offer preparation courses in English for those students who would like to attend lessons in English, but do not come from an English-speaking country. Teaching is carried out using different teaching methods, including theoretical lectures and practical exercises in small groups and seminars. In addition, students can attend extracurricular lectures and participate in scientific circles organised by the departments. Practical lessons take up a maximum of 6 students at a time.
Assistant professors, responsible for the instruction of the student groups during the semester, continuously assess and evaluate the knowledge of the students in every subject. Exams are held for every subject at the end of the semester during the 45-day exam phase. The final evaluation of students' knowledge at the end of the degree is assessed by an extensive examination which includes theory and practice. This examination is carried out by the state examination board.
The University has two student dorms with more than 400 beds. There are bedrooms with two and three beds, central heating and bathroom in the rooms. It is not compulsory for the students to live in student dorms. If they wish, they can also look for private accommodation. Meals are offered at reduced prices in the student canteen. The sports facilities of the University allow students to participate regularly in different sport disciplines. The sports facilities include an indoor multi-purpose sports complex, basketball and volley courts, as well as tennis courts. If they wish, the students can join student associations and platforms. International students can found their own national, ethnic or religious associations as long as their functioning complies with the law of the Republic of Bulgaria. Students can enter scientific circles, culture or sports clubs in line with their individual interests and skills. In accordance with the principles of equal treatment, the position of the University does not alter because of nationality, gender, age, religion, sexual orientation, ethnic or political affiliations, financial situation or health condition of the students.